Rainwater Harvesting Aerobic Infiltration System from Atlantis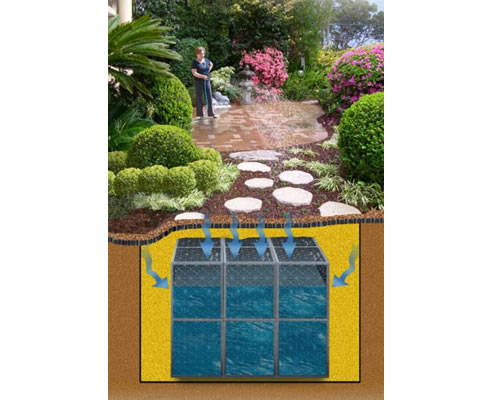 Capillary action of sand surrounding tank assists in aeration of stored water.
Rainwater Harvesting is the process of collecting, storing, and distributing rainwater from the roof for use in and around the home or office.
The subsurface location and the high compressive strength on the Matrix® Tank provides greater useable ground area and enhanced aesthetic setting compared to traditional above ground tanks.
The lightweight, modular design of the Matrix® Tank system makes installation quicker, safer, easier and cheaper than below ground round or oval concrete or plastic tanks.
Benefits:
Reduce mains water dependence
Reduced consumption of mains water results in a lower water costs while protecting precious potable water for human consumption.
Protect Property
By reducing stormwater runoff, you reduce the likelihood of urban flooding and potential property damage while providing onsite water supply incase of bush fire.
Green grass and gardens
Unregulated onsite water supply allows irrigation of property even during droughts and periods of water restrictions
Increased land value
Reduces the need to build large reservoirs on valuable land.
Modular
Easily create any shape and size to suit site requirements
Strong Structural Design
Designed for car loadings with adequate backfill depth
Low Maintenance
Sediment and vegetation debris is removed by filtration prior to storage in the tank