Colour Trends from 2011 from Dulux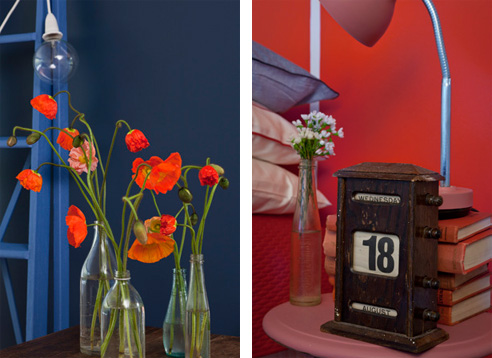 Bold hues of orange and yellow are set to shine as the biggest colour trend for 2011, according to Dulux Colour Forecast for 2011.
Dulux's annual colour journey across the globe, incorporates design shows, social, cultural and environmental trend forecasts, and personal interviews with leading worldwide experts from a variety of style, design and architecture backgrounds.
Trends are distilled by the highly experienced Dulux colour Forecast team from these annual visits to Europe, including the recent Paris Designer Days, where more than 60 design stores and boutiques open their doors to showcase what they do best.
Experts are predicting warming tones of yellow and orange as a key antidote to the shadows cast by the global financial crisis.
Andrea Lucena-Orr, Dulux's Colour Forecaster, says, "The mood of the world undeniably influences our colour selections. The need for a renewed reassurance, harmony and tranquility in an unstable economic climate are mirrored by the desire for freedom, revival and bold abandon."
Andrea continues, "The spectrum of yellow tones spans from bold, bright sunshine and canary yellows which spell optimism, renewed vitality and revival, to deep reassuring mustards and natural, earthy oranges. Nostalgic creamier tones evoke comforting images of history and the past whilst light and lemony hues create a feeling of space and freedom from the confines of daily struggles."
Elisabeth Condemine, Founder & CEO of Paris company, Colour & Marketing concurs, "Yellow is making a comeback after 20 years of being unfashionable. It's a response to the economy and one crisis after another."
Elisabeth also says that the economic crisis is good for the home "This isn't about hiding from your social life, but instead of spending money in restaurants people are cooking for friends and family at home. The biggest social phenomenon in France at the moment is the open table every week, or huge picnics where people SMS a place to share food with friends or even strangers", she says.
Award winning UK interior stylist Marissa Daly from Homes & Gardens Magazine UK considers Spain as one of the greatest sources of colour influence across Europe at the moment.
"There is a huge resurgence in Spanish handicrafts and traditions as well as contemporary design. The country has produced some of the most influential designers and architects of our era, such as Patricia Urquiola and Paola Navone."
The latest Dulux Colour Forecast incorporates key Intergrain timber colours, Dulux Powder Coating colours and textures from the new Dulux Design Collection.
The Dulux forecast fandeck will be available to purchase online via www.dulux.com.au/specifier from early November.