Self Contained Freestanding Goods Hoist by Southwell Lifts and Hoists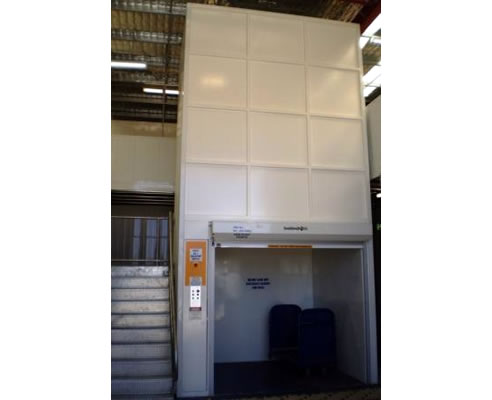 The Southwell Freestanding Goods Hoist also known as a freight lift is a compact, fully self contained unit which has been designed for commercial and industrial use.
Installed in its own clad configuration, this Goods Hoist is a cost effective alternative to the traditional lift as it does not require a shaft.
Also differing from the conventional lifts, Southwell's Freight Lift requires no machine room and have minimal pit requirements or we can supply an optional ramped access at the lower level if a pit is not achievable.
Southwell Goods hoist offer users a cost effective and efficient way to raise heavy goods between floors and is built to stand the test of time.
To keep you operational for the lifetime of your facility, we can ensure that your hoists are regularly serviced and maintained in first class condition by our experienced Service Team.
Contact our Sales Team for the Freestanding Goods Hoist / Freight Lift email sales@southwell.com.au or phone 1800 244 787