EnviroSlat Wood Plastic Composite from Futurewood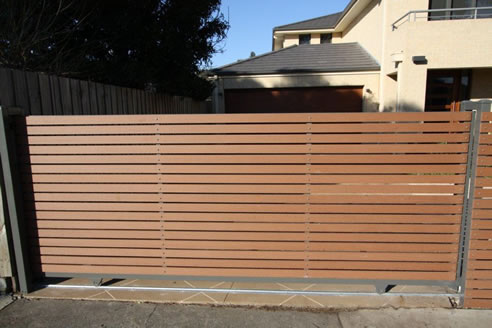 EnviroSlat is a wood plastic composite material that is available in a range of different architectural profiles for decorative cladding, screening and fencing applications.
EnviroSlat is made from recycled PE, hard wood flour and rice husk/hulls providing a low maintenance, termite and rot resistant alternative to rainforest timber. EnviroSlat composite fencing and decorative cladding boards are available in a wide range of colours, finishes and profiles. In the fencing range the standard board is 70mm x 15mm x 4800mm and is available in the same finish and colour range as the CleverDeck 138mm decking.
Pictured in a Mahogany 40mm x 30mm profile the low maintenance aspect of EnviroSlat makes it an excellent choice for screening and cladding applications in coastal or harsh environments. (The 40mm x 30mm profile can also be supplied with a unique concealed fix clipping system).
Other custom made architectural profiles are also available to order in a range of colours and finishes that are currently used in street furniture, shade structures and feature walls & screens.