Opening and Closing Louvre Roof from Vergola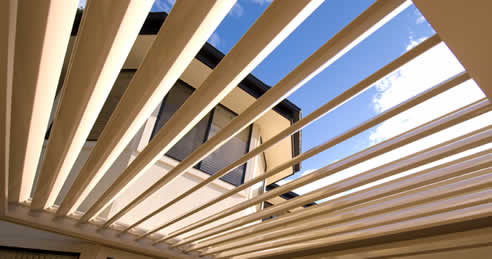 Vergola Opening and Closing Louvre Roof - Design and Operation

Vergola's unique louvre design is what makes a Vergola so impressive. The aero foil wing shape, combined with the use of Colorbond steel, create a cavity air space which delivers greater insulation and strength than any other opening or traditional roofing option. For warming Winter Sun the louvres are angled to allow direct sunlight to penetrate creating a wonderfully warm and protected area. During Summer the louvres are angled in the opposite direction now reflecting the sunlight providing a totally shaded, well ventilated and naturally lit atmosphere. In rainy conditions the Vergola louvres close and overlap each other creating a protective cover allowing you to enjoy your outdoor area undisturbed. The louvres are installed with water clearance in mind and will direct water to the Vergola gutter which lines the inside of the system's frame work. The gutters will then disperse water to the closest point of clearance which is generally a down-pipe from your home's storm water system.