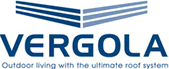 Company Profile
Vergola, the world's first complete opening roof system, creates the ultimate outdoor environment all year round.

With the Vergola louvre roofing system you can control sunlight and airflow - just perfect as the ultimate opening roof system for outdoor entertaining.

The energy-efficient Vergola not only saves you money, it can also add value to your home or business.

The Vergola system is custom made to suit a wide variety of residential and commercial outdoor requirements.

Vergola allows you to adjust your outdoor covers to suit the weather and enhance your lifestyle all year round.

Vergola Sales
1800 802 955
7 Tepko Road, Terrey Hills, NSW, 2084
* If you would like to update the text on your profile page, please contact Spec-Net.