Green Wall Facade Systems from Elmich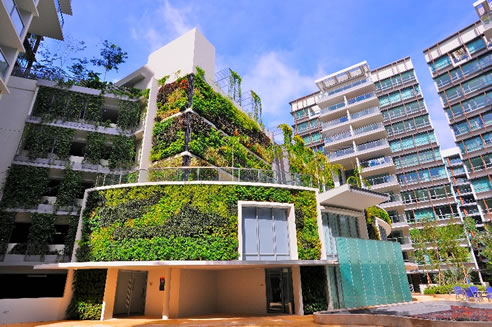 The Elmich Effect... Stunning Greenwall
The clubhouse of a residential complex in Singapore required greenwalls to the facade, the convex wall of the 2nd level and a free standing wall at the main entrance.
Elmich Vertical Greening Modules (VGM), each containing a geotextile bag filled with soil-less and inorganic greenwall growing media, were pre-planted in a nursery environment. This process allows the plants to be firmly established and also vertically orientated before installation.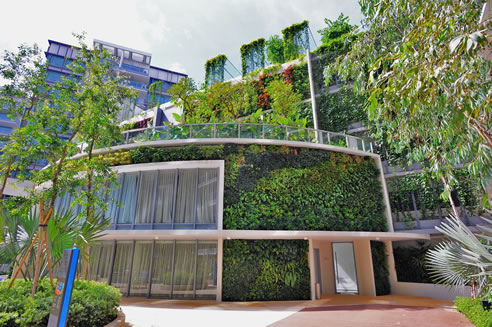 VGM modules were anchored onto stainless steel pilasters bolted to the concrete wall to a height of 15 m which includes the convex wall of the second level. In all the VGM modules covered 140m2 of clubhouse facade.
At the fifth level, of the residents carpark, the VGM modules were bolted directly onto a bespoke metal framework, which enables pairs of adjacent vertical rows of VGM modules to swing inwards like windows. This allows easy maintenance access to the VGM modules mounted 15m from ground level.
A 56m2 living wall anchored onto a free-standing metal framework at the entrance, greets residents and visitors. The Elmich VGM Green Walls blend seamlessly with the landscaped gardens to provide a visually appealing green environment and also help in the environmental objectives of the project.