Rooftop Waterproofing with Radmyx from Radcrete

Belmont Plaza Shopping Centre Waterproofed with Radmyx
SITE DETAILS
COUNTRY: Australia
SITE: Belmont Plaza
PRODUCT: Radmyx
APPLICATOR: Uniseal Pty Ltd
TREATED AREA: Basements and post tensioned rooftop slabs
SIZE: 5,000 cubic metres
Radcrete Pacific Pty Ltd has won many substantial rooftop waterproofing contracts for suburban shopping malls.
Belmont Plaza on the NSW Central Coast has had the post-tensioned car park roof slab along with the suspended bowling green slab protected with Radmyx - Radcrete's crystal growth admixture - to ensure complete below grade waterproofing.
With a shopping centre and all its amenities below the slab, the developer wanted to take a safety first attitude to waterproofing. After considerable research, Radmyx was chosen as the most effective product due to its inherent capability to prevent water ingress over the long term, coupled with cost effectiveness and ease of application.
Shopping centre rooftops are critical areas because any leakage through the slab can cause massive damage to the retailers located below.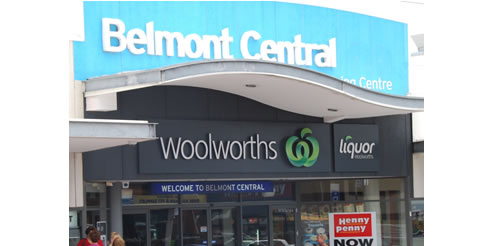 Woolworths entrance