Wall Relief for Vision Apartments from ARTPark Australia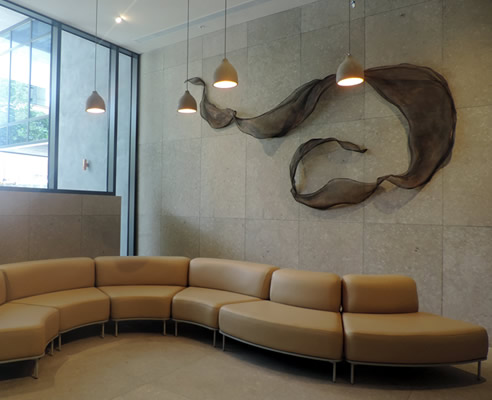 ARTPark Australia, Installed Wall Relief
into Vision Apartments, Elizabeth St Melbourne
Artist - Mic Baird - Gossamer 2 Free Formed Stainless Steel Mesh - Burnished 7.2mtr
A spontaneous sculptural forms that offers the viewer the feel of flowing fabric, with invisible mounting techniques the work appears to float on the wall with no visible means of support!
It has depth, and scale yet due to the nature of the work doesn't overpower the space, yet it enhances the tonal qualities of the room with the delicate tones of the burnished stainless steel, shades from the blues through to the coppers and reds.
The relief sculpture is just one of the examples of relief work available via ARTPark Australia virtual sculpture park. If you have a need for 3 dimensional works of any kind, from the table pieces to public artwork for buildings or open areas, consider the options available via the site, and call us to offer non-obligatory consultative assistance in achieving the results that will stand your development out from the rest, with ART.