Dementia Friendly Flooring Designs with Forbo Flooring Systems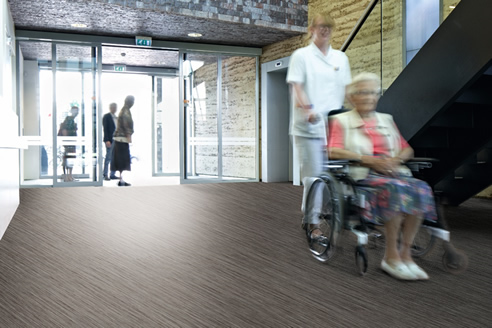 Age-related changes and impairments can make it more difficult to understand and navigate the built environment. Impairments may include sensory, mobility or cognitive (or sometimes a combination of them all) which can affect people's functioning, behaviour, independence and ultimately, their quality of life.
Floor covering is an essential factor in designing a dementia friendly environment as it has an impact not only on the safety and orientation of a space but when used correctly, can help provide confidence, security and independence.
Forbo have partnered with Dementia Services Development Centre (DSDC), an international centre which draws on 25 years of global research and practice, to identify which products in our portfolio can contribute to improving the quality of life for people with dementia.
DSDC have rated our flooring products 1a plain and can be used indiscriminately, 1b semi-plain and can be used throughout or 2 patterned use with caution.
For more information on Forbo's DSDC accredited product range visit our website.