Remilled Commercial Wharf Decking from Hazelwood & Hill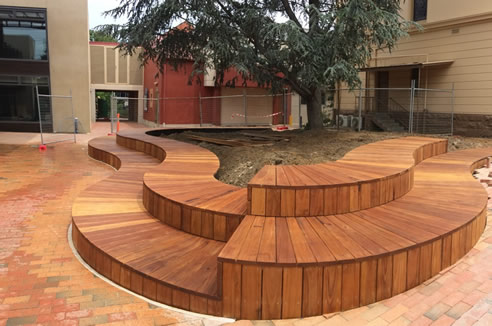 REMACHINED FROM KILN DRIED HIGH DURABILITY AUSTRALIAN HARDWOODS FROM SUSTAINABLY MANAGED AND LEGAL FORRESTS.
SIZES AVAILABLE: 85 X 32, 135 X 32.
Species available, Blackbutt, Spotted Gum and mixed hardwoods (predominately blonde).
Blackbutt and Spotted Gum have a natural fire resistance. Their fire retarding properties make them suitable for use in many bushfire prone areas under Australian Standard AS3959.
The same timber species can be used for internal flooring and outdoor decking, to provide a seamless transition from inside to outside, expanding living areas or to create an outdoor room.
Australian hardwoods can easily be finished with a clear decking oil or stain. Alternatively the timber can be left to weather to turn an attractive silver grey. After timber has weathered it can be restored to its original colour by re-sanding and coating.
SUITABLE USES:
SCREENS; FENCES; GATES; SEATING; DECKS; BOARDWALKS; PEDESTRIAN AND LIGHT VEHICLE BRIDGES; LOADING DOCKS; GRANDSTANDS.
For further information, please direct all your enquiries to our sales team on 03-9808 5522 or email.