Tilt and Turn Window Coverings from Paarhammer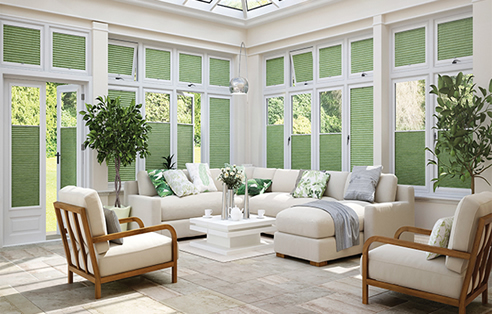 We often get asked what to do with curtains or blinds when using tilt & turn windows. Here are some possible answers including the latest in window furnishings.
With a double or triple glazed Paarhammer window you should only need curtains or blinds for privacy and decoration, not for insulation to keep the cold or heat out. Having said that, it is always important to shade your windows from the summer sun with the best results achieved by external shading, especially on the western side of your home.
How far inward a window tilts depends on where it is installed within the wall. Some of our clients use curtains on rods or within pelmets mounted to the wall above the window or with a track mounted on or recessed into the ceiling.
Mini venetian blinds installed within the recess of the glass beads is a very neat option, especially if a fixing at the bottom of the blind is included so that the blind sits on the glass itself and moves with the window or door.
This option has been developed further and a vastly improved version has recently arrived on our shores. Blinds or venetians can now be installed with their own frame in the glass bead recess for a snug fit. This solution also allows for ventilation with the window in a tilted position, and of course, shade and privacy, and installation is quick and easy without the need for screws.