Bi-Fold Doors for Alfresco Living from Paarhammer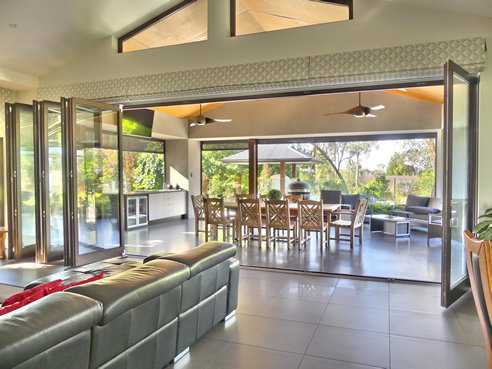 Indoor/Outdoor Living with Paarhammer Bi-Fold Doors
Alfresco living is much in demand for entertaining. The trend towards building homes with an abundance of natural light and a seamless connection between interior and exterior spaces is growing. Open up your house with either sliding doors, French doors or bi-fold doors.
What are the advantages of each and which one should you chose? Let's look at bi-fold doors today:
Imagine an opening of up to 10 meters wide or up to 2.8 meters high, removing the barrier between indoors and outdoors to create one large entertainment area where friends can mingle with a glass of wine and nibbles, have a chat and enjoy themselves. Your home could be turned into the perfect summer destination. Or if it is access to the BBQ area, trampoline or vegie patch - what better way than to have bi-fold doors that fold away to reveal a wide opening leading into the great outdoors.
The principle of a folding door is not new at all. On the outskirts of Pompeii a triple folding door was found in the 'Villa of the Mysteries' which was built in the 1st century AD during the roman era. While the building was buried during the eruption of Mount Vesuvius, the villa with many frescoes and the bi-fold door was very well preserved. Already the Romans knew about the perfect solution for indoor-outdoor living.