Side Screen Panels from Blinds by Peter Meyer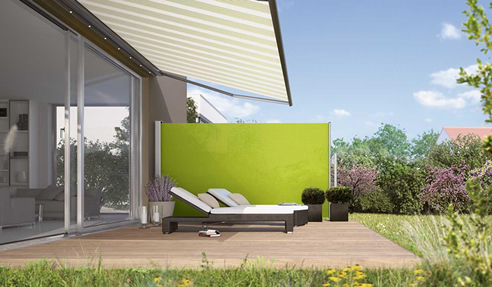 For top-quality side screen panels, leading industry experts choose Blinds by Peter Meyer. The Australian-owned and operated company has been of profound service to the building and design sectors for 30 years and counting. In that stretch of time, Blinds by Peter Meyer has gained certified expertise in the design, production and distribution of a continuously expanding range of window furnishings. As much as their catalogue, Blinds by Peter Meyer has established an admirable reputation for their unwavering dedication to world-class service.
Peter's Picks: Window Side Screen Panels
Blinds by Peter Meyer proudly offers Paravento side panels, specially designed for privacy screening and wind protection for alfresco areas. Especially popular for residential applications, the units make for a high aesthetic, yet practical solution to outdoor privacy.
Paravento is precision designed and manufactured by Weinor, critically acclaimed window specialists based in Germany. The side screen keeps a low profile, disappearing into an elegant cassette when not in use to prevent obstructing the overall aesthetic of the application. In action, Paravento adds personality to any space, whether it be classically or contemporarily styled.
The Paravento design includes corner post functionality. Users can easily remove the cassette during the winter. Under high windy situations, Paravento maintains a robust, secure profile amidst high fabric tension. The all-weather side screen provides maximum protection and privacy all year round with adherence to the requirements of wind resistance class as per the CE-conformity marking. Ideal for residential application it's also perfectly suited to the café/restaurant lifestyle where barriers or wind protection are required. Weinor being able to print onto the fabric also adds an excellent marketing opportunity for any business.