Refresh or Protect Your Exterior Timber with Whittle Waxes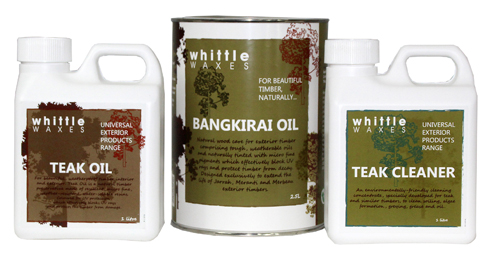 Time to refresh or protect your exterior timber?
Teak Cleaner isn't just for Teak, it will clean all exterior timbers without killing your plants or rusting nails on decking. The timber can then be protected with your choice of Bangkirai Oil or Teak Oil. The great part about our exterior oils is that they can be re-coated without aggressive sanding.
Teak Cleaner
An environmentally-friendly cleaning concentrate, specially developed for teak and similar woods, to clean soiling, algae formation, greying, grease and oil.
Areas of use: All exterior timber, decking, screens and garden furniture.
Benefits: Easy-to-use. Highly effective, cleans deeply and gently. Highly efficient (up to 75m² per liter).
Safe: for the environment.
Recommended treatment: Before the application of any exterior timber protection.