T-Pod Composite Partitioning New from Aspect Furniture Systems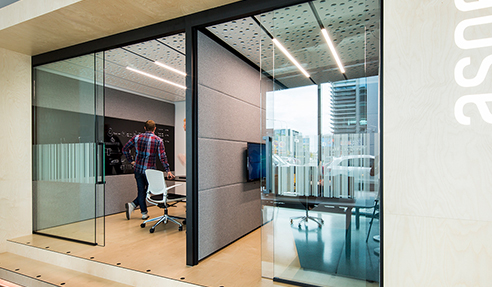 Aspect Furniture Systems is a family-owned and operated business specialising in the design and manufacture of commercial office furniture including their wall system - T-Pod composite partitioning for workstations, personal storage, team storage, seating, privacy screens, tables, collaborative, and accessories.
The new T-Pod composite partitioning comes with select pre-formatted modules that can be quickly and seamlessly placed in a floorplan. An 800 x 800mm module with several combined together to form blocks as required serves as the basic building block.
Designed specifically to be a self-supporting system, the T-Pod composite partitioning does not require connection to the above ceiling grid, which increases flexibility and allows changes to configuration over the life of the product without affecting daily operation. The section above the transom can be filled to the ceiling grid, or a ceiling can be integrated into the transom frame to achieve acoustic insulation.
Ventech provides clients with commercial office furniture solutions that produce a range of benefits, including:
Creating a vibrant and inspiring workplace for staff
International quality design
Providing flexible furniture that will adapt to the changing requirements of the business
The guaranteed service life of more than 10 years
Achieving a work environment that meets the ergonomic requirements of users
Learn more about the T-Pod composite partitioning wall systems and other Ventech commercial office space solutions by visiting www.aspectfurniture.com today.