Office Furniture for Urban Growth Sydney from Aspect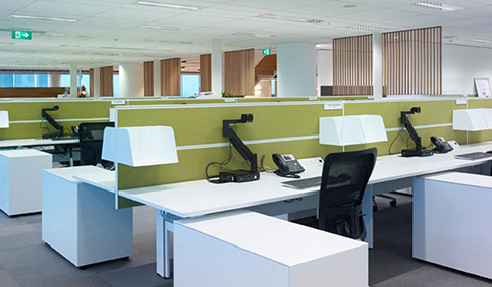 Aspect Furniture Systems was enlisted to supply a series of office furniture solutions for Urban Growth Sydney, an NSW Government agency for economic development of urban places across metropolitan Sydney.
The project scope is influenced by Urban Growth's environmental initiatives, wherein 150 work points, storage systems, integrated power blades, tilting tables, and accessories were included. Also specified was the implementation of a trickle switch soft-wired solution that switches off all downstream power outlets when the computer is turned off.
Aspect Furniture Systems worked closely with CMS Electracom and Shape Australia to meet the precise requirement by integrating cable management systems into the office furniture.
The office furniture for Urban Growth Sydney features:
A combination of fixed height and tech adjust desks to ease budget pressure;
Slimline 25mm services blade to integrate with the slat panels utilised across the open plan area; and
Use of Aspect's 'Slide' system for team storage units where hinged doors had been specified to improve accessibility and avoid impeding major egress routes.
If you are looking for a viable solution for your next office furniture project, consult with the experts at www.aspectfurniture.com today.