Marine Grade Timber-Look Cladding by DECO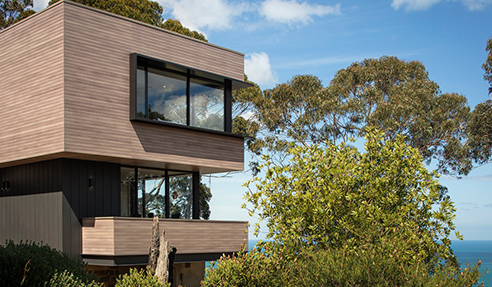 When building in coastal or bushfire-prone areas, it is important to choose building materials that can withstand the harsh conditions of their surrounding environment. While this stunning residential property in Lorne, Victoria offers extraordinary views of the Bass Strait, its position off the Lorne Coastline in a bush area meant it required a high-performing, durable façade, while still complementing its beautiful location.
The homeowners and builders Howley Construction opted for DECO's durable, extreme exposure tested timber-look aluminium cladding to fulfil this brief, applying DecoClad 'V-Groove' cladding in Weathered Timber around much of the exterior of the residence. The softwood tones of this finish complemented the surrounding gum trees and ocean views while giving the building its desired traditional timber-look external façade.
As well as being an attractive finish that enhances the beauty of the landscape around it, DecoClad is also low-maintenance, fulfilling another of the owner's specifications, and offers suitable protection against the elements. Due to the house's position, it is impacted by salt spray and direct sunlight and is located in a Bushfire Prone Area.
The SuperDurable™ powder coated finish of DecoClad offered protection against both UV rays and salt spray, having been tested in extreme exposure sites for long periods. Being a solid aluminium cladding, it also offered a BAL40 fire zone rating, eliminating the combustion risk standard timber would have posted.
Head over www.decorativeimaging.com.au for further inquiries.