Le Blinde: Classic Woven Timber Blinds from Blinds by Peter Meyer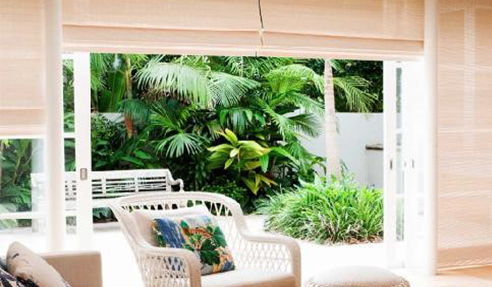 With more than three decades of experience in the design industry, Blinds by Peter Meyer has earned the reputation of a leading manufacturer and supplier of classic woven timber blinds across Australia. Combining their expertise with smart technology and the highest quality of components, Blinds by Peter Meyer's innovative and sophisticated woven timber blinds have consistently yielded better-built homes and offices across Australia.
Le Blinde Woven Timber Blind: Features and Specifications
Le Blinde is a classic woven timber blind made with French timber weaves that are delicately crafted by hand. It brings a unique fusion of timeless elegance and character to any architectural decor. Combining aesthetics with thermal properties, Le Blinde provides effective insulation and UV protection to interiors without luxurious spending.
With bespoke services for professional application and to meet specific design requirements, Le Blinde can be used in their natural state or custom painted, in the owners choice of Roman, roll-up blinds, or moving panels. These blinds come in a standard size of 2500mm wide with a 3000mm drop, and pre-finished fabrics at a maximum width of 2400mm.
Blinds by Peter Meyer offers multiple design possibilities with their wide range of stylish weaves separated into three different collections: Natural, Mocha, and Le Finish. Le Blinde provides optimum interior privacy, while its sophisticated design allows users to still see and enjoy scenic views from outside, and without the need to worry about extreme sun exposure or UV radiation.
Insulation and light access will vary based on the preferred blinds position. For total convenience and seamless operation, control Le Blinde with Somfy's range of remotes and switches. The motorisation allows users to influence heat and light ingress through sensors and timers even when away. It gives a quiet, sophisticated, and discreet operation that ensures a longer life value.
Schedule an appointment to learn more on Le Blinde Classic Woven Timber Blinds by calling Blinds by Peter Meyer or visit www.petermeyerblinds.com.au today.