HyLoft ceiling storage units from Altamonte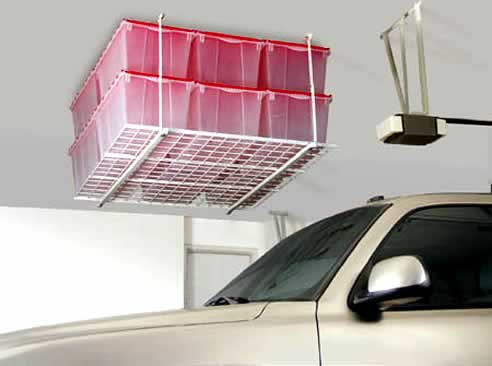 HyLoft ceiling storage units are great for the garage, basement, attic, closet, office, or any other room in need of storage. HyLoft ceiling storage units are ideal for storing holiday decorations, luggage, coolers and other large bulky items. The units help increase the overall value of the home and neighborhood by allowing vehicles to park in the garage where they are intended to be. HyLoft Storage systems are available in various colors and finishes.
45" wide x 45" deep.
Adjustable in height from 16" to 28".
Attractive, scratch resistant finishes.
Made of strong, durable steel.
Carries a lifetime warranty.
Storage capacity of over 30 cubic feet.
Holds up to 250 lbs.
Multiple units easily connect to maximize storage.
Fast, easy, one-person installation.
All hardware for installation included.
Can be installed on finished or unfinished ceilings.