Securamail Australian made secure letterbox solutions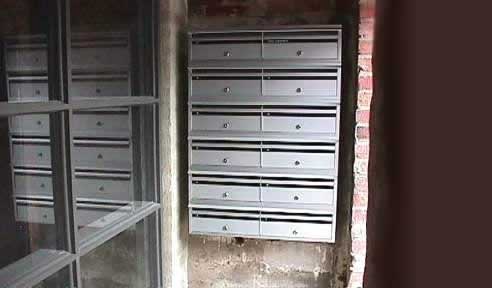 Durable & low maintenance, single or multiple banks of letterboxes to suit every situation. For the home, unit, office, factory or retirement village.
Quality Construction
Securamail Letterboxes are constructed from aluminium extrusion with proven mitred and stainless steel screwed corners. Both the front or rear opening models have a continuous stainless steel hinge rod complete with a quality lock and two keys. Each door comes individually numbered standard, with the ability to be replaced if necessary.
Design Service
Securamail will design and manufacture special letterboxes to suit our customers needs or requirements, for example: parcel shelves, paper containers, body corporate boxes, intergrated intercom systems, nameplates or directory systems.
Weather Protection
Securamail Letterboxes are fitted with extruded 3mm thick weather verandah complete with an internal fitted aluminium floor and sealed with the latest technologically advanced sealants during assembly.
Fixing
Securamail Letter boxes can be ordered with round or square aluminium legs. Aluminium Angle Architrave (25 X 25) are available if you decide to have your bricklayer carry out installation during construction.
Identification
Securamail design gives you the choice of a small or large numbering system (corporate or street numbering on request).
Large Numbers
Recommended for the elderly or visually impaired (ideal for retirement villages). Simply specify when ordering.