Stainless Steel Wire Rope from Bridco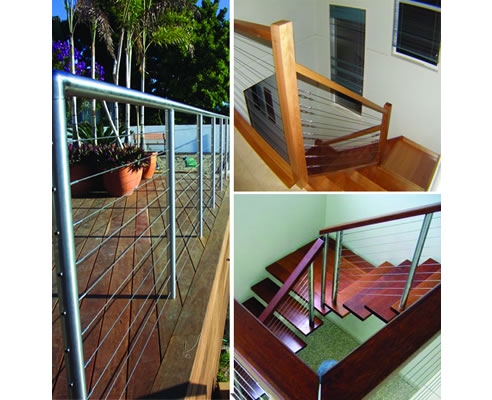 Bridco have a wide range of quality stainless steel wire rope for use in balustrade, rigging, architecture and landscaping. Our wire rope is available in grade 316, 1 x 19, 7 x 7 and 7 x 19 strand. Wire rope diameters range from 1/16" to 1/2". PVC coated wire is also available in stainless steel or galvanised on request.

1 x19 is the least flexible of our wire rope and most commonly used for balustrade, this wire rope will not bend around corners or angles and is perfect for straight runs.
7 x 7 is a semi flexible wire rope commonly used for balustrade where a slight angle is required. This wire rope can be wrapped around a thimble in smaller sizes.

77 x19 is the most flexible of our wire rope and is commonly applied where a thimble and swage is used and is most suitable for running through blocks.

Bridco also have a wide range of stainless steel fittings for use with wire rope including; turnbuckles, wire rope grips, wire rope thimbles, swivels, eye terminals, toggle terminals, fork terminals, bottlescrews, blocks and sheaves. Blocks are available with stainless steel sheaves or nylon sheaves.
Bridco have distributors throughout Australia and New Zealand, to find your nearest stockist of Bridco products please call us direct.