Stainless Steel Chain & Components from Bridco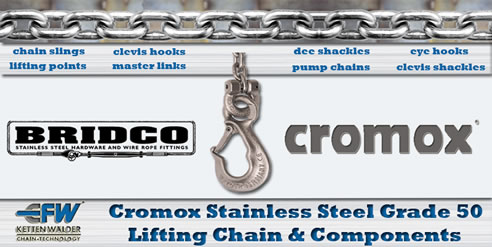 Stainless Steel Chain & Components suitable for use in sewerage and wastewater treatment plants.
Bridco specialise in Grade 50, Cromox stainless steel lifting chain and components, manufactured by Ketten Walder in Germany. We have highly qualified, NATA certified distributors of Cromox products throughout Australia.
Cromox chains & components are manufactured in a variety of grades of stainless steel. Grade AISI 316L is the most common grade of stainless steel, however other grades such as Grade AISI 318LN and Grade AISI 630, are also used in chains and components depending upon their application.
Cromox chains and components are proving to be a popular choice for applications in pump stations, wastewater and sewerage treatment plants.
One of our distributors, A.Noble & Son Pty Ltd in Brisbane, were awarded the contract to supply the Moreton Bay Regional Council with Cromox stainless steel chain and lifting components for water & wastewater treatment plants.
Moreton Bay Regional Council covers Redcliff, Pine Rivers & Coobulture Shire Council. The fittings will be used for the purpose of maintenance & upgrades of water & wastewater plants. Bridco expect the cost for these fittings to run into hundreds of thousand of dollars.
With the advantages Cromox products have to offer in regards to resistance, particularly in aggressive mediums, we expect to see Cromox products being implemented in water & wastewater treatment plants on a national level.
For further information please contact Bridco for details of a Cromox representative near you.