World's Largest Greenwall Project from Elmich Australia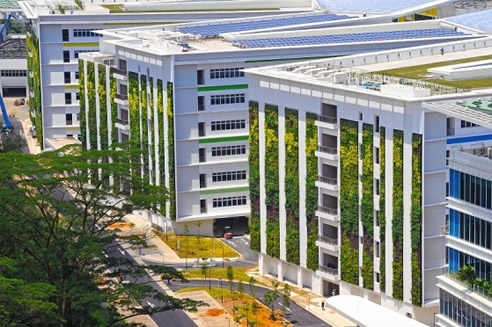 Officially the World's Largest Greenwall Project - Singapore ITE Headquarters & College Central

Hats off, to our colleagues at Elmich Singapore, who have just completed the largest greenwall installation, in the world. Standing at 35m tall and totaling 5,300 m2, Elmich VGM Green Wall modules transformed the campus walls, both internal and external, into facades of living green vegetation, in-line with the college's Eco-Initiative to create an environment conducive to learning.


The highly engineered Elmich VGM architectural living wall system uses UV-stabilised plastic modules and stainless steel support brackets and pilasters that enable easy mounting and dismounting of VGMs during installation and maintenance. Topped off with 2400m2 of Extensive Greenroof


2,400 sq m of roof space, over three campus blocks, was 'Greened' using the Elmich Extensive Greenroof system. VersiDrain 25P® drainage and water retention trays were placed directly over the waterproofing and overlaid with a geotextile and a lightweight engineered growing media. Pearl Grass was selected for its heat tolerance and low maintenance and an automated pop-up irrigation system was installed to ensure abundant growth, maximising the benefits of this greenroof.