Frameless Curved Glass Balustrade from Bent & Curved Glass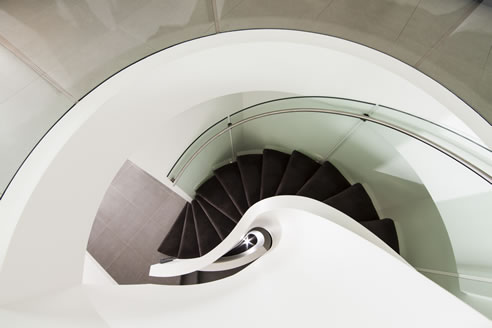 "BENT AND CURVED GLASS INNOVATIONS"
The experienced staff at Bent and Curved Glass worked closely with Webber Architects and Ledbury Blatchford Constructions to develop the role of glass in the design and fabrication of an innovative and unique stair which rises through 3 levels of this award winning residential project in Merewether, a beachside suburb of Newcastle.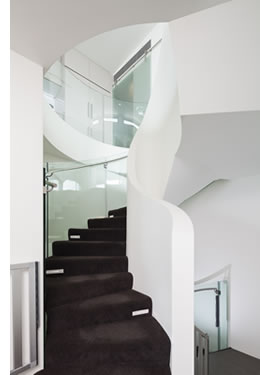 The stair takes on a dramatic sculptural form with the glass allowing for a lightness and transparency that highlights the solid twisting central balustrade and stringer elements.
The project has gone on to win the Master Builders Assoiciation Newcastle award for Excellence in Building and the Lower Hunter Urban Design Peoples Choice Award and was nominated in the Australian Institute of Architects Newcastle Chapter Awards. The design eloquence and craftsmanship of the stair together with the creative use of frameless glass contribute in no small measure to the success of the project.
One of the more recent developments in glass manufacture is the use of Toughened Structural Laminated Glass to facilitate fully frameless balustrade systems without the need for a toprail or handrail.
This engineered glass solution incorporating a structural interlayer allows a seamless, virtually invisible balustrade without compromising safety, function or performance. Views are uninterrupted and the sense of space is enhanced.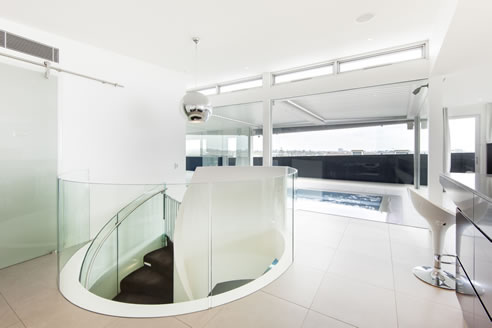 Photographer: Michael Kai.
The conceal fixed fully frameless glass balustrade to the upper level void on this project provides a fine example of the benefits of this glass type.
Bent and Curved Glass Pty Ltd have been providing innovative custom glass solutions for a wide variety of residential and commercial applications for over 35 years.
Frameless glass stair treads, pool wet edges and viewing windows and floor panels are some of the other structural glass products manufactured by Bent and Curved Glass.
Visit the BCG website or call to discuss the many other opportunities available to incorporate custom glass products into your next project.
Look online at www.bentglass.com.au or email for more information.