Braille Toilet Signs from Hillmont Signs Sydney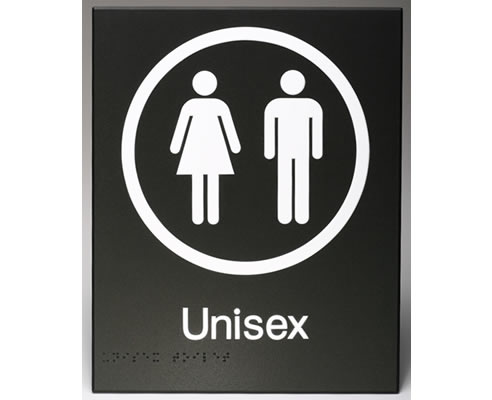 Fast Turnaround Toilet Signs
Braille and tactile toilet signs are mandatory on all toilets and other amenities for public use.
We offer a wide selection of Braille and tactile signs for Australian buildings, and can advise on the BCA requirements.
In addition, Braille and tactile signs are required to indicate accessible routes for persons in wheelchairs, such as ramps and lifts.
We are able to advise on the locations for signs to comply with the code.
Hillmont Braille Signs now offer a new FAST TURNAROUND SERVICE for our cost effective, fully compliant MALE/FEMALE/UNISEX/AMBULANT 180mm x 180mm silver self adhesive polycarbonate membranes * (* this applies within Australia only; limited types available).
Hillmont Braille Signs are fully compliant with all requirements of the relevant Australian Standards and Building Codes. Signs are fully encapsulated in a single unit to ensure that they are resistant to strong cleaning materials and vandalism. Our manufacturing process means that not only can statutory requirements be met but also individual colour schemes and special graphic design elements can be incorporated to suit your clients requirements.
We offer obligation free design advice on the features relating to directories, tactile maps and wayfinding systems. Hillmont Braille Signs is one of the most successful and innovative manufacturers of Braille in Australia and has been manufacturing and supplying Braille/tactile and general signage solutions throughout Australia for over 20 years from our Northwest Sydney location.
High profile projects include the award-winning wayfinding system at the University of Sydney, many of the facilities for the Sydney 2000 Olympics, high profile corporate clients as well as the Epping to Chatswood railway and Braille signs inside the new Oscar railway carriages.
For the full range of products and services available including Toilet signs visit http://www.hillmontbraillesigns.com.au/products/braille.aspx?CatID=1