Waterproofing Pre-Cast Trafficable Panels from Radcrete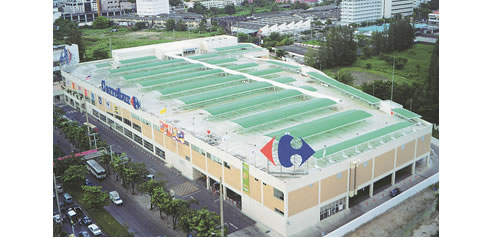 Radcon Formula #7 waterproofs
pre-cast trafficable panels for Carrefour, Thailand
Pre-cast panel construction where topping slabs are emplaced can cause the structure to become volatile under vehicular loading. This volatility will often cause failure with many waterproofing systems.
Thailand has overcome this problem through the development of design techniques which give pre-cast construction structural stability and integrity to car park decks. This has been achieved by making the topping slab a reinforced concrete (RC) slab, specifying a 120mm topping. Each slab is no more than 25 metres by 20 metres. This is further enhanced by minimal reinforcing of 12mm bars at 30cm spacing in both directions with twice this amount of reinforcement over all support lines. This approach produces the structural stability required for any suitable waterproofing material to work effectively.
Specifier's need to note Thailand's tropical climate produces very little thermal stressing to structures. In higher latitudes, where thermal stress increases, 50mm to 70mm reinforced topping slabs may not achieve structural stability which is a primary requirement of satisfactory design. However, through innovative product design, Radcon Formula #7 is the waterproof of choice for both tropical Thailand, and much colder higher latitude's.
SITE DETAILS
COUNTRY: Thailand
SITE: Rama 4 Hypermart
OWNER: CenCar Co Ltd
CONSULTANT: Siam Coussine Consultants
APPLICATOR: Radcon (Thailand) Co Ltd
TREATED AREA: Car park roof deck & balcony