Radcon Formula #7 Concrete Waterproofing System from Radcrete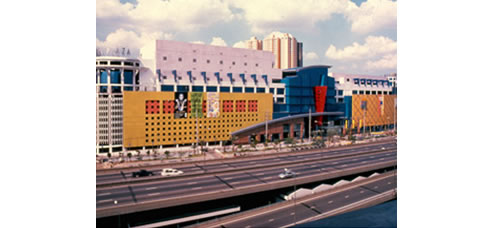 Rachada Rama 3 shopping centre, Thailand
Central Department Store is Thailand's largest developer of one-stop shopping and entertainment complexes with retail outlets throughout Thailand, with a number of new projects in the preliminary stages of construction.
The gross floor area of Central Plaza Rachada Rama 3 is almost 200,000 sqm comprising supermarkets, food courts, department stores, indoor bowling, restaurants, and a world class cinema multiplex. Both Central Pattana and Philipp Holtzman have had past problems with conventional membrane systems and know how easy such systems sustain damage during and after construction. This often results in the total failure of the waterproofing system for which the replacement cost is extreme.
Both the owner and the main contractor chose to use the Radcon Formula #7 Waterproofing System on all critical above ground waterproofing requirements for a number of reasons.
The representatives of the owner and architect carefully inspected previous Radcon Formula #7 treated projects such as Seacon Square. This high-risk project with 40,OOO sqm of Radcon Formula #7 waterproofing to roof areas was strong evidence that Radcon Formula #7's past record in Thailand assured them of virtually no risk. Further, they would also gain from ease of application during the construction phase and would eliminate the fear of serious damage to the waterproofing integrity during construction.