12 Metre Wide Cantilever Gate from Magnetic Automation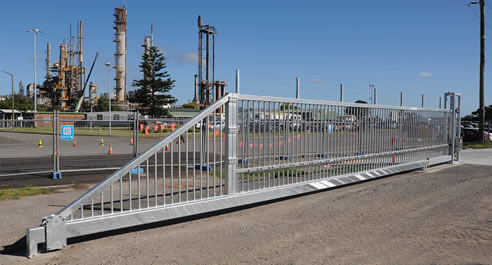 Fully customisable MCG XL cantilever gate
To accommodate a wide opening space for a coal export site, Magnetic Automation installed a 12-metre MCG XL cantilever gate with Magnetic's powerful MSL 20MC motor. It was installed at the entry point to the site to protect against unauthorised foot traffic in a high vehicle thoroughfare.
The MCG is designed for commercial, industrial and security applications. The modern design of the MCG eliminates the need for ground tracks and overhead rails. The cantilever system and customised options allow for a variety of motors and controllers to be installed dependant on the duty cycle of the gate.
For additional protection and security, three strands of barbed wire were fitted above the gate to eliminate climb over. In addition, the gates are equipped with flashing lights and sonar alerts as an added accessory to increase safety precautions, as they sound when a vehicle enters the premises.
For more information regarding our MCG cantilever gate or any other Magnetic Automation products, please contact our head office on 1300 364 864 or email.