Solar Powered Full Height Turnstile from Magnetic Automation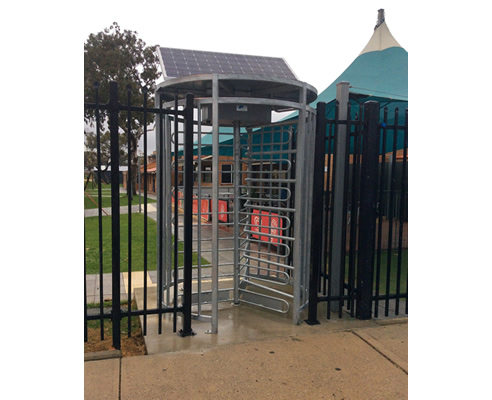 The power of solar
The Magnetic full height turnstile can be generated by a single solar panel attached to the top of the turnstile. Installed at a manufacturing plant, the purpose of this turnstile was to create a barrier for foot traffic against heavy machinery used on the site.
Our turnstile was integrated with existing perimeter fencing and was hot dipped galvanised for long-lasting outdoor protection. It has a bi-directional function which allows users to enter and exit from either side.
Solar is a great option to power turnstiles if there is limited power supply nearby or for creating a sustainable energy source.
For more information regarding our MPT full height turnstiles or any other Magnetic Automation products, please contact our head office on 1300 364 864 or email.