Sliding Office Partition Cubicles from Portable Partitions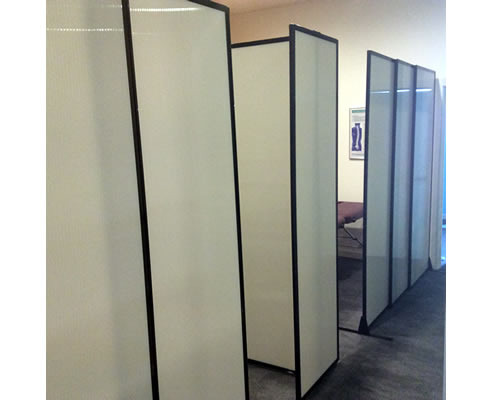 Using Sliding Office Partitions to Create Cubicles for Therapy Sessions
The National Health and Safety Commission (NOHSC) identified stress as "the most significant psychological hazard in the workplace, affecting both the mental and physical well-being of people... It is causing Australian businesses over $10 billion dollars per year." And according to Worksafe through their website (Worksafe.vic.gov.au), "stress is the second most common cause of workplace compensation claims in Australia, after manual handling."
Because of this, massage therapy and stress management clinics continue to grow across Australia to address this serious problem. As more people experience stress, professional intervention increases as well, especially to those that require a higher level of stress management and prevention. This demands for more therapy clinics, treatment facilities, and cubicles to accommodate the ever-increasing number of patients.
Portable Partitions Australia (PPA), the market-leading manufacturer and supplier of portable office partitions, was recently appointed by Claire McCardel of Bliss Chiropractic Osteopathy Pty Ltd, a massage and stress management facility out of Mentone, Victoria, to provide office partitions that can help maximize a spacious room by having two separate cubicles instead of one, while providing the privacy the patient's need. The room where therapy sessions are held is obviously large enough to accommodate more than one therapy bed.