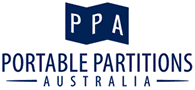 Company Profile
Australia's largest range of portable room dividers, mobile partitions, portable privacy screens, temporary movable walls and portable barricades. Our temporary or semi-permanent suctions be used as simple room divide or to create meeting rooms, training rooms, break out areas, privacy rooms, waiting rooms and mobile galleries.

Why Choose Portable Partitions Australia?
Australia's largest and most flexible range of intelligent space utilisation solutions. Multiple heights, lengths, finishes and colours available. Custom products also available.

Fast Shipping
Products are in stock and available to order directly through the website. The majority can be shipped within 1-2 working days across Australia.

Australia Made
The majority of our products are manufactured, assembled and shipped directly from our Sydney factory ensuring the highest quality.

Why choose Portable Room Dividers?
Flexible & Adaptable Space
Smarter use of existing space is becoming an increasingly common requirement, often on a budget. Our flexible and adaptable product configurations means there is a solution for every project.

Save Time & Money
Avoid expensive, lengthy and disruptive permanent building works by considering cheaper temporary room dividing solutions. We have products to suit every budget, without the hassle.

Easy Set-Up
Most of our room dividers ship fully assembled. Simply unbox and place in position. No need for professional building services or specialist installers.


Portable Partitions Australia
1300 731 397
11/8 Jubilee Avenue, Warriewood, NSW, 2102.
* If you would like to update the text on your profile page, please contact Spec-Net.