Scissor Truck Hoist from Southwell Lifts & Hoists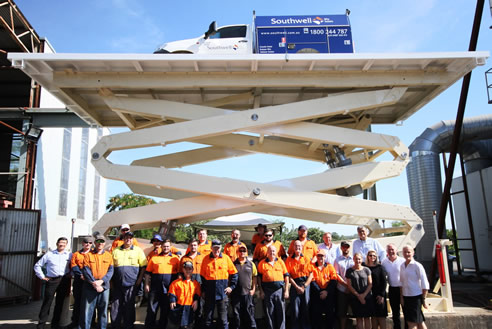 Southwell Scissor Truck Hoist - our tallest yet
Southwell have been a manufacturer of Lifts & Hoists since 1945 in the picturesque semi-rural township of Camden NSW. Southwell have a proud history of crafting a wide range of lifts and hoists solutions from commercial, retail businesses to substantial industrial applications throughout the decades.
In 2010, Southwell were approached by Consulting Engineers ARUP to provide a Truck Hoist solution for York & George Street Sydney project.
After around 5 years of design changes and project delays, Southwell Lifts & Hoists were awarded the truck hoist subcontract by Watpac Constructions in mid-2015.
Our scope of work was to design, manufacture, deliver and install the unit which has a 10M length x 3.5M width platform, vertical travel over 15M, services 2 Basement levels and York Street level with a lifting capacity of 15T. The mechanism is a triple scissor lift to give the high vertical travel.
The unit will be installed in components from street level but Southwell's experienced installers excel at this task. Southwell will organise delivery on a week night to negate any delays to the City traffic. Southwell comply with all manufacturing and site WHS requirements.