Bushfire Safe Decking from Decorative Imaging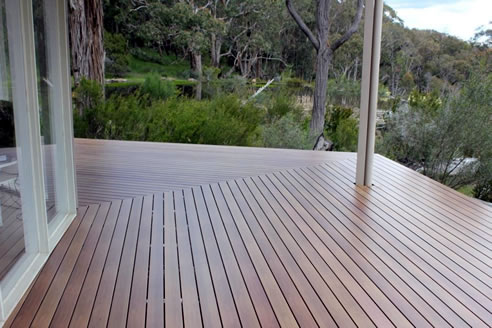 Build a Bushfire-Safe Deck with DecoDeck
Moving out bush to escape city life and enjoy living in the iconic Australian bush setting is a trend on the rise for many Australians. And the great thing about many Australian cities is that you don't have to travel too far from the city to experience a 'tree change'.
Many of these semi-rural 'bush suburbs', like the Blue Mountains in New South Wales, the Yarra Ranges in Victoria and the Adelaide Hills in South Australia, are all classified as Bushfire Prone Areas. So, it is important that residents educate themselves on Bushfire Prone Area regulations before making the move out bush.
One area residents must comply with fire safety requirements is when they are building or renovating their homes or properties. The Australia Standard 'AS3959:2009 - Construction of Buildings in Bushfire Prone Areas' establishes the Bushfire Attack Level (BAL) metric, which measures the degree of risk of a building's exposure to ember attack, radiant heat, and direct flame contact. When relating BAL to building a deck, residents living in BAL-19 to BAL-FZ areas must comply with a stringent guidelines.
Read more about the Bushfire Attack Level (BAL) metrics here.
DecoDeck aluminium decking system is a non-combustible decking product approved for use in all BAL areas and is the ideal fire-safe alternative to timber in bushfire prone areas. Harnessing the strength of aluminium with the natural look of timber thanks to the leading aluminium timber-look finish DecoWood, DecoDeck provides the peace of mind that your deck will withstand the risk of ember attack and direct exposure to flames with ease.
Find out more about leading aluminium decking system DecoDeck here.