New Reflective Roofing Membrane - OneCoat® from Neoferma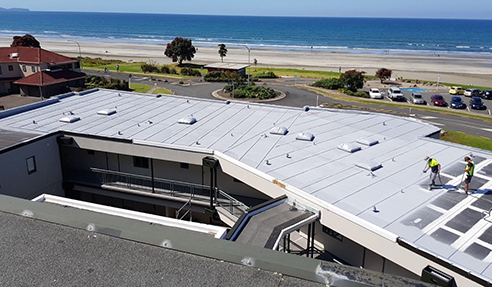 Introducing OneCoat® - The New Reflective Roofing Membrane
Neoferma's reputable experience plus first-class services make the company the first choice for all waterproofing systems and, in conjunction, CIW Remedial is a master applicator for spray's, including the newest OneCoat® system from Neptune Pacific Ltd.
OneCoat® is a cold spray applied seamless membrane that has exceptional characteristics for both new and existing roofs, decks, plus many other substrates and situations. OneCoat® is a white or grey, acrylic based elastomeric reflective coating designed specifically for waterproofing and prolonging roof life.

Benefits of the OneCoat® system include;
Low in labour costs; OneCoat® is sprayed applied with 250/500m² per day applied after preparation work is completed. With the speed of preparation work with OneCoat® unique elastomeric cement, this further reduces labour costs.
The OneCoat® product cures within 2/3 minutes against rain, therefore reducing the risk in our climatic conditions, plus has reflective properties against UV of a minimum 80%.
OneCoat® is extremely robust, seamless, cost-effective, and able to go over most surfaces to give a long-lasting watertight membrane that meets all the requirements of the Australian Building Codes.
OneCoat® has NO solvents in the product, therefore has NO VOC'S.
OneCoat® provides a full product warranty of 15/20 years.
OneCoat® can be patched or repaired to remain seamless. Perfect when alterations are being done or new penetrations, aerial's or air conditioning units are installed.
OneCoat® is fire resistant, seamless, with no laps and no joints.
To find out more information regarding OneCoat® contact Neoferma at www.neoferma.com today.