Pharmacy Point of Sales Products on Show from SI Retail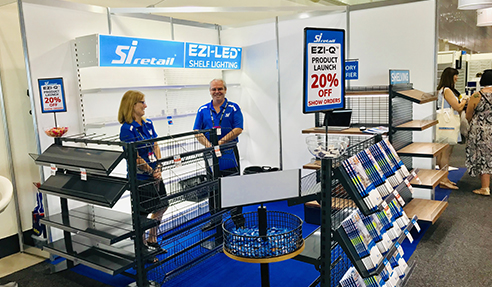 SI Retail at the APP Pharmacy Expo Gold Coast
SI Retail is an Australian-owned and operated business that optimises merchandising and in-store environments by providing high-quality customised pharmacy point of sales products and other off the shelf store solutions.
SI Retail recently attended the APP Pharmacy Expo on the Gold Coast to showcase pharmacy point of sales products designed to attract customers, such as shelving, LED shelf lighting, gravity roller shelves, shelf management, in-queue merchandising systems, data strips, display hooks, shopping trolleys and baskets, slatwall accessories, signage, product display systems, pallet guard, and other miscellaneous items.
With comprehensive technical knowledge, our skilled professionals have developed a range of versatile shop fittings and point of sales solutions to suit a variety of retail industries, such as automotive, fashion, sports and leisure, supermarket and convenience, hardware and pharmacy. Focusing on the pharmaceutical industry, we have designed a range of pharmacy point of sales solutions for chemists to display products in the most cost-effective and efficient way.
For more information on pharmacy point of sales products and other merchandising solutions, visit www.siretail.com today.