Open/Close Roof for Sydney Hospital Outdoor Space from Vergola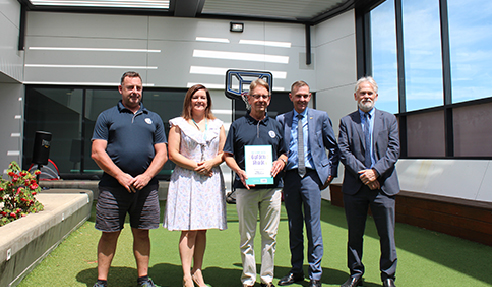 When Vergola NSW was planning how to celebrate their 30-year anniversary last year, they decided they wanted to give back to the community that had supported their business growth over this time. They approached the Sydney Children's Hospitals Foundation who had the perfect site in mind for the installation of a Vergola.
The Psychological Medicine Department at Sydney Children's Hospital, Randwick had an unused outdoor area within its Saunder's Unit that was too hot in summer, very exposed in the rain and generally not as comfortable as it could be. It was an ideal location for a Vergola.
The Saunder's Unit provides tailored mental health inpatient services to support young people, and to care for those who experience problems associated with acute mental illness. Here teenagers and their families manage difficulties and learn strategies to adapt to changes in their lives.
Now that the Vergola has been installed, patients are better protected from the harsh sun in summer and can enjoy the sunshine during the cooler months. The beautiful, newly covered outdoor area provides teens with a relaxed, functional space all-year-round.
About the Sydney Children's Hospitals Foundation
Sydney Children's Hospitals Foundation is a charitable organisation that exists to fund groundbreaking research and everyday clinical care at Sydney Children's Hospital, Randwick, The Children's Hospital at Westmead, Bear Cottage, the Newborn and Paediatric Emergency Transport Service (NETS NSW), Kids Research and other vital children's services.
Established in 1986, the Foundation has contributed more than $130 million over 30+ years to support sick children and their families. For more information visit www.schf.org.au.
About Vergola
Vergola is an Australian owned and operated business that has installed over 2,000 open/close roof systems into homes and businesses over the past 30 years.
For more information, visit www.vergolansw.com.au today.