Designer Battens - New 25mm DecoBatten from DECO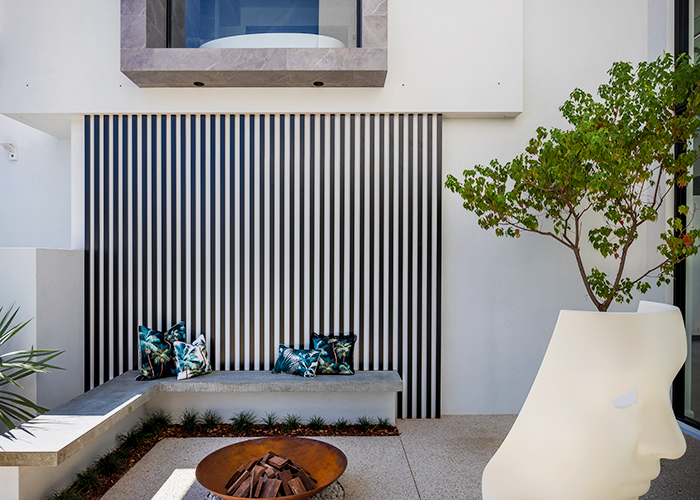 New DecoBatten '25mm Designer Series' Unveiled
DECO Australia's newest DecoBatten series may be small, but it is guaranteed to make a big impact. From feature walls and ceilings to a reception showcase, the miniature 25mm aluminium DecoBatten designer series offers flexibility and freedom to create showstopping designs, no matter the project.
Super light-weight and with no visible fixings thanks to DECO's unique 'Quick Click' two-piece batten system, the 25mm slimline battens can be positioned vertically, horizontally or at any angle on any flat surface, allowing architects and designers to incorporate bold and unique pattens into their designs.
As with all DecoBatten products, the '25mm Designer Series' is made from 100% solid aluminium and finished in DECO's Super Durable™ powder coating technology, allowing designers to also choose their own personalised look from a selection of over 150 DecoWood® timber grain colours or from a range of plain, concrete, marble or rust finishes for a truly unique design.
Available in three batten cover sizes - 25mm, 50mm and 75mm - and a standard 25mm base, the Designer Series boasts DecoBatten's two-piece 'Quick Click' system and 6.5 metre lengths to ensure quick and seamless installation and, most importantly, minimal wastage.
DecoBatten has been deemed a non-combustible product by the CSIRO and offers a fire-safe option for internal and external applications including façades, feature walls and ceilings. DecoBatten has also been tested and certified to Australian Standards AS1530.1 and AS1530.3.
For more information on DecoBatten products and the new DecoBatten '25mm Designer Series', please visit www.deco.net.au.