Polished Stainless Sculpture for Fairfield RSL by Di Emme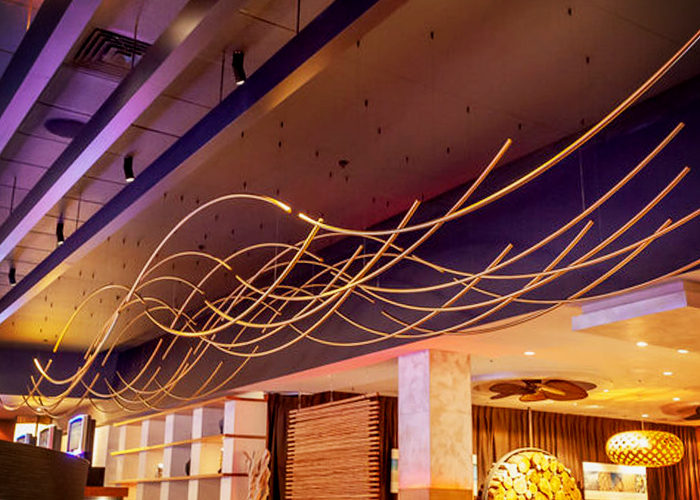 Fairfield RSL Sculptures: Way-Finding Curves + Butterflies of Remembrance
Way-finding Polished Stainless Sculpture
Di Emme has created a sculpture of graceful curves to guide patrons along a vast corridor at Fairfield RSL. The curves are formed from polished stainless-steel tubes of different diameters. A hand-applied glaze provides a warm tint that complements the club's lighting and fixtures.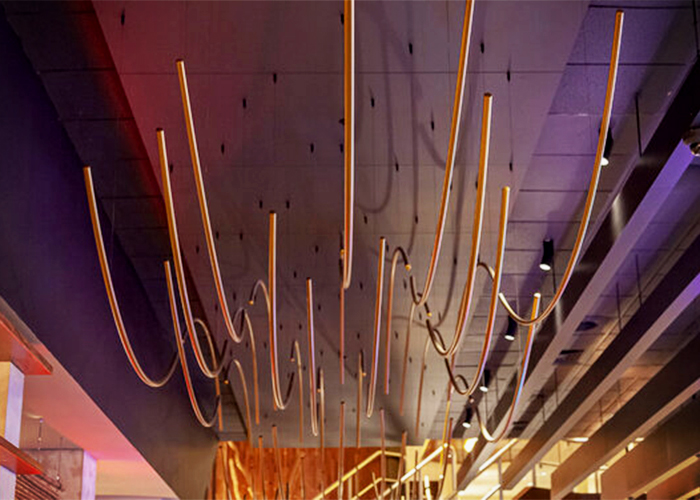 The sculpted curves are suspended on stainless steel trace wire. They appear to hover in the space but are firmly secured with rated shackles and clips in an engineering code-compliant system.
Di Emme produced prototype pieces for the club's approval. Once the design was agreed, Di Emme was involved in drafting the curves, designing the suspension, and polishing, glazing and installing the final sculpture.
Making Art Accessible
Fairfield RSL Chief Executive, Andrew Sobb, has a passion for making art accessible to everyone. Patrons can enjoy the sculptural features throughout the club and experience a variety of media in the club's gallery. Fairfield RSL launched The Gallery in 2017 as a space totally devoted to art, sculpture and photography exhibitions.
Butterflies of Remembrance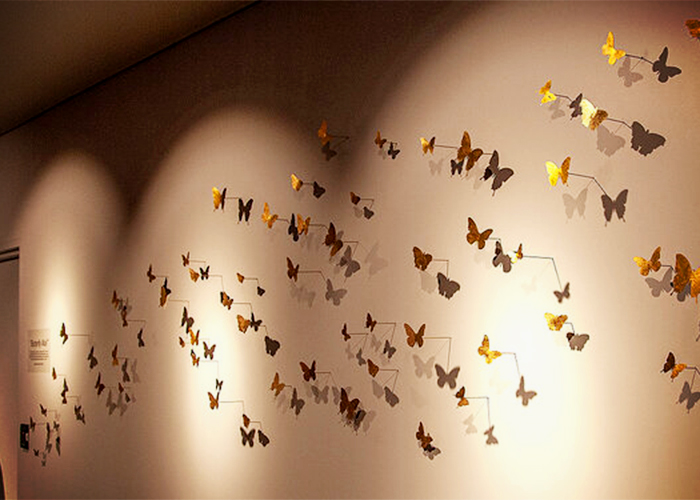 Di Emme was commissioned to create a sculpture for the gallery, Butterflies of Remembrance. The work is a series of thin laser-cut aluminium butterflies of varying sizes. The butterflies are gilded and pin fixed away from the wall, with the shadows giving the impression of a larger flock.
Butterflies are a significant World War I motif. The war artist, Wiliam Orpen, revisited the Somme battlefield in 1917 and recalled an extraordinary sight: "The dreary dismal mud was baked white and pure - dazzling white. White daisies, red poppies and a blue flower, great masses of them, stretched for miles and miles. The sky was a pure dark blue, and the whole air... thick with white butterflies."
For more information regarding Polished Stainless Sculpture for Fairfield RSL by Di Emme, visit www.diemme.com.au.