Aliwood Screening System by CSP at Hazelwood & Hill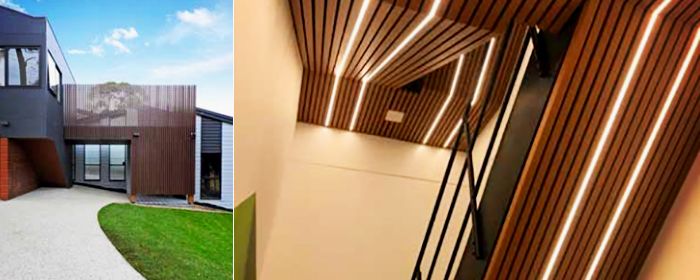 Hazelwood & Hill are pleased to be able to offer Aliwood, the architectural timber finish aluminium screening system. The Aliwood screening system offers a non-combustible yet versatile timber finish aluminium screening option that overcomes the drawbacks of traditional timber. Using the clip-on fixing method, Aliwood screening is quick and easy to install, providing the end user with an elegant and hassle-free screening option.
The system can be used both internally as well as externally in commercial and residential settings. Installed horizontally or vertically, the system delivers a natural, stylish, and clean look. This architectural timber finish aluminium screening system is ideal for but not limited to ceilings, privacy walls, garage doors and feature walls.
Features: Non-Combustible; Ideal timber substitute; Easy installation; Zero maintenance; Variety of colours; Sustainable; Rot, mould, and pest resistant; Versatile; Lightweight; Hidden fixing system.
For further information, please direct all your enquiries to our sales team via hazelwoodhill.com.au.