Community Mosaic Projects Using LATICRETE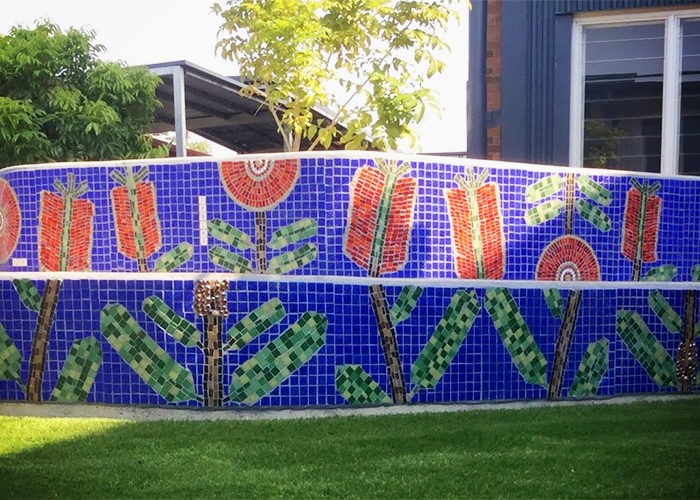 The Callistemon Seat Mosaic
Mosaic artists Lee FullARTon and Denise Chard worked on a community mosaic project at Claremont Special School in Ipswich, QLD and they shared their project with us;
In mid-2019, collaborating artists Lee FullARTon and Denise Chard began planning a mosaic installation of approximately 16m² for an existing two-tiered cement seat located in the communal area of Claremont Special School in Ipswich, QLD. The installation was funded by the Queensland Government Gambling Fund. Lee and Denise worked with eight pre-vocational students and two teacher aides, once a week, over two school terms.
The concept and design was drawn up in the studio and each week the students worked on the motifs, which captures the local Callistemon Tree that is featured throughout the school grounds and the local area. The students were taught how to use mosaic leponetts to cut 20mm glass tiles and adhere to fiberglass mesh panels using small amounts of 335 Premium Flexible Adhesive, following a cartoon pattern that was secured underneath the mesh.
Once the 90 mosaic panels were complete, preparation commenced on the seat. To begin, the substrate for the seat was prepared by applying 2 coats of HYDRO BAN® waterproofing membrane. The mosaic panels were then adhered to the seats using 335 Premium Flexible Adhesive, and grouted with PERMACOLOR® Grout in 'Slate Grey'.
A final clean up and polish of the seat was carried out to complete the Callistemon Seat Project. It is now enjoyed by the staff and students of Claremont Special School.
"The LATICRETE products used were excellent and performed beyond our expectations on the vertical situations. As in the past, we will certainly be using LATICRETE products for all future projects," said Denise Chard.
To see more of Denise and Lee's mosaic art head to the Denise Chard Creative Glass Designs Facebook page, or www.leefullarton.com.
For more information on LATICRETE permanent trouble-free installation products, training, or technical advice, contact your local LATICRETE representative via www.laticrete.com.au.