Heavy Multi-folding Door Tracks - AllWeather by Cowdroy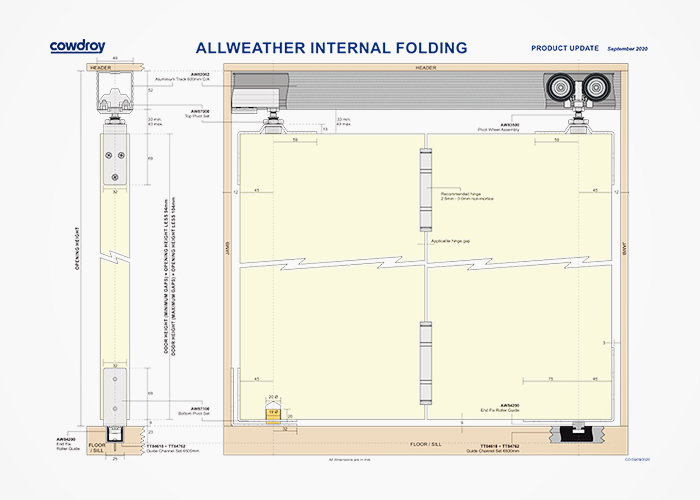 The AllWeather Internal Folding system is a robust multi-folding system designed for heavy doors in a folding application. Suitable for up to 8 doors in one direction in both left-hand or right-hand openings. Features include an enclosed aluminium heavy duty track, concave nylon tyred wheel assemblies, bottom rolling guide, and stainless steel components. Ideally used for internal doors, partitions, and dividers. Components are also suitable for exposed areas where a sealed system is not required.
Technical Specifications
Max. Door weight: Up to 90kg* per leaf.
Min-max. leaf width: 600mm - 900mm.
Max. door height: 2700mm.
Min. door thickness: 32mm.
Max. no. of leaves: 8 in one direction.
AllWeather Internal Folding Range
AW82062 - Aluminium Track 6000mm CA
Extruded heavy duty track with thickened fixing point and "V" groove for accurate drilling. Attractive clear anodised finish.
AW83500 - Pivot Wheel Assembly 316SS
4 wheel carriage with pivot bearing and end fixing plate. Concave wheels allow for superior tracking. Stainless steel.
AW87000 - Top Pivot Set 316SS
In-track top pivot assembly with clamp and end fixing plate. Stainless steel.
AW87100 - Bottom Pivot Set 316SS
Flush mount bottom pivot assembly with end fixing plate. Stainless steel.
AW84200 - End Fix Roller Guide 316SS
Door mount bottom guide with roller bearing and end fixing plate. Stainless steel.
TT84618 - Guide Insert 6500mm Black
Extruded aluminium channel. Mill finish.
TT84762 - Guide Channel 6500mm C/A
Extruded aluminium channel. Clear anodised.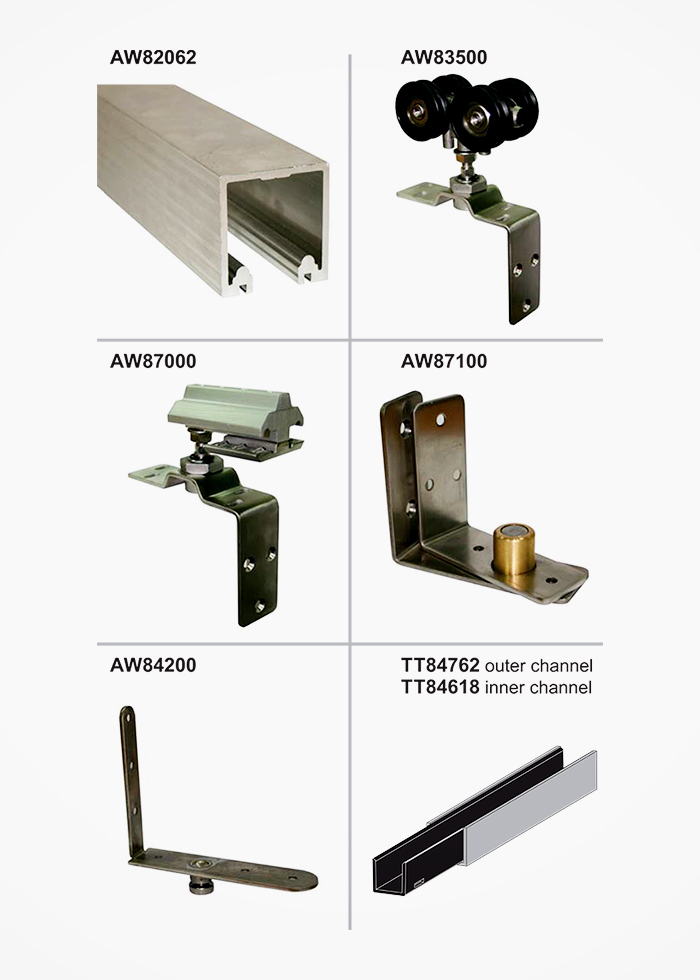 *90kg capacity is based on the use of a bottom guide channel. The AllWeather Internal Folding system may be used without a bottom guide in 2-door applications at a maximum weight of 45kg per panel.