DecoVogue™ Rust-look Surface Finish by DECO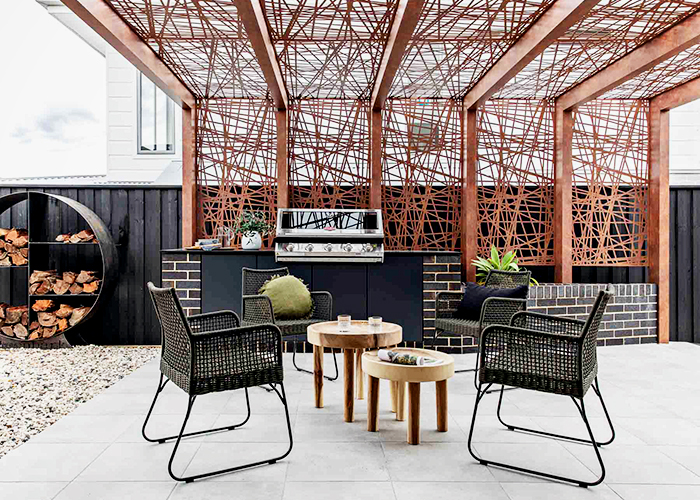 Sophisticated everyday living with DecoVogue™ rust-look finish
Renowned NSW builder, Better Built homes sought to add a twist to the everyday home, creating a thoughtful, modern, and unique design that allows for easy, everyday living. Situated in the stylish new Redbank estate in North Richmond, their new home design, The Macquarie 33, combines modern elegance, natural beauty, and low maintenance to create a sanctuary from humdrum modern life.
The alfresco area - a focal point of the home suited for outdoor entertaining or relaxing in private - was designed with the surrounding bush landscape in mind. Designer, Blaire Marchand drew inspiration from the rural area for the pergola design. The pergola is designed to be reminiscent of a rustic tin shed, connecting this modern home with the traditional farmland roots of the region.
DECO's aluminium panel series, DecoPanel, was the ideal product to create a unique screen design from. An unusual, custom cross-hatched pattern has been laser cut into the screens, invoking a sense of gum trees and rural living with a modern twist. DECO's new rust-look finish Earthy Ochre™, part of the designer DecoVogue™ collection, was the perfect colour choice to pay homage to the colour of the ground under a gum tree. These thoughtfully-shaped and coloured panels extend from the barbecue area to the entrance to the home's living area, seamlessly connecting the inside and outside of the house, paying tribute to Australian's quintessential love of outdoor living.
Lightweight, easy to install, and with a Super Durable™ marine grade finish resistant to harsh weather conditions, the DecoPanels offer a flexible, low maintenance alternative to authentic weathered steel. The freedom from hassle and maintenance was a key element in Marchand's design - the home is designed in a way which allows its residents to enjoy their house after a difficult day at work, without having to think of restaining or replacing their panels.
The Macquarie 33 exemplifies a timeless Australian home, traditional and modern elements blending together to create a new contemporary classic.
"I love timeless, classic and elegant finishes - we're going to live in our homes for a long time and it's a big investment, so designing spaces that will stay current even after 10 years is really important to me," said Marchand of the design.
DECO's unique panels and contemporary DecoVogue™ finishes can be used to create a variety of inspiring designs. Contact DECO Australia for more project inspiration.