Be streetwise with Dulux's essential anti-graffiti powder coatings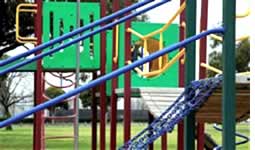 Graffiti is a modern-day "artistic" expression that devalues property and is often seen as intrusive, offensive and threatening.
Governments, local councils, businesses and property owners incur costs in the millions of dollars each year to remove graffiti. Evidence suggests the best way to deter graffiti is to expedite its removal. With this in mind, Dulux Powder Coatings has formulated an anti-graffiti powdercoat called Armourspray® AG.
Armourspray® AG offers exceptional properties for the rapid removal of graffiti by aerosol spray cans and permanent markers. Armourspray® AG is an environmentally friendly powdercoating that can be used to protect various substrates including steel, aluminium and hot-dipped galvanized steel.
Armourspray® AG is recommended for street furniture, roller shutter doors, playground equipment and public transport equipment.