2009 Dulux Colour Awards winners announced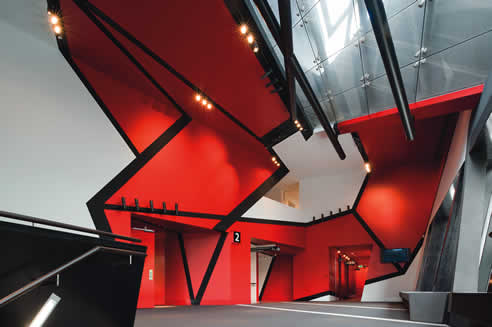 In what has been declared one of the most competitive Dulux Colour Awards competitions in the program's 23 year history, ARM was this month awarded the 2009 Grand Prix title at a gala ceremony held in Melbourne's BRIGHTspace Gallery.

ARM's Melbourne Theatre Company project convinced external judges Australian Institute of Architects1 Victorian Chapter President Karl Fender, colour and design lecturer Di Swinbourn and artist Mark Schaller that it was the ultimate response to this year's theme 'show us your colour touch.'

"This embodies the ethos that colour is vital to architecture, as is architecture to colour. The pragmatic use of colour to identify or enhance components such as pathways demonstrates the intelligence behind this project. There is a level of drama and theatrics behind the palette that echoes and enriches the very culture and purpose of this space. In every sense of colour touch ARM has proven the Melbourne Theatre Company to be a worthy winner of this year's Dulux Colour Awards," said Fender on behalf of the judging panel.

As part of the Grand Prix win, ARM was awarded the prestigious Dulux Colour Awards trophy, $2,000 cash, a return business-class airfare and accommodation to Paris for the acclaimed Maison-Objet exhibition and the opportunity to design the colour scheme of the Bookshop feature at designEX 2010 in Sydney (working in consultation with designEX's chosen feature designer).

A stellar collection of finalists made this year's judging particularly challenging. However, as Dulux spokesperson and DCA internal judge Andrea Lucena-Orr explains, a difficult selection process is something Dulux embraces.

"The Dulux Colour Awards have traditionally drawn some of Australia's most brilliant design professionals. To see the quality and calibre of entrants dazzle us across every single category in 2009 is a genuine delight. Dulux is committed to showcasing our country's talented specifiers and to see so many of them reciprocate with such impressive projects gives us a real sense of pride," said Lucena-Orr.

Those leading the way to win their 2009 Dulux Colour Awards categories are listed on the Dulux Colour Awards website www.dulux.com.au/colourawards.

Forming part of Dulux's sponsorship of the Interior Designer Awards Colour in Commercial Interior Design and Colour in Residential Interior Design Awards, DCA entries were automatically entered into the Interior Designer Awards free of charge and all finalist projects will be displayed at designEX. Winning images are available to download from www.dulux.lookat.me.com.au (registration required). For more entrant information please contact Dulux Colour Awards 03 9263 3607.