TurfPave® by Elmich Australia water permeable alternative to concrete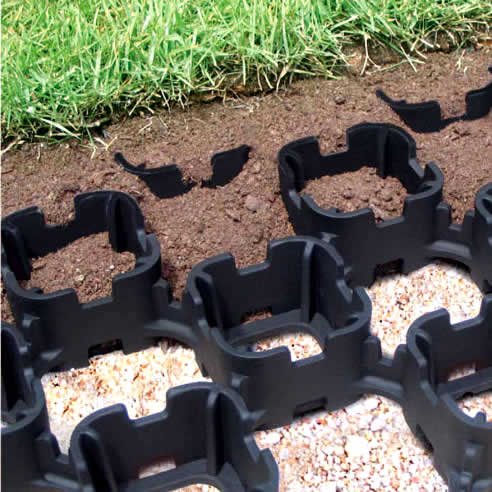 Given the choice, many people would prefer the look of a grassed or decorative gravel driveway or car park over an unsightly concrete or asphalt one. With the important issue of drainage to consider, a porous surface such as turf or gravel enables rainwater to infiltrate into the sub-grade mitigating flooding. Apart from the environmental benefits, allowing water infiltration means that developments are more likely to meet local planning water permeability guidelines, eliminating the need to install costly storm water management systems.
"Until now, it has been difficult to use turf in moderate use traffic areas, because of the problem of the earth being compacted, eventually killing the root system resulting in unattractive worn areas," said David Oliver, Elmich's Managing Director.
"This is where Elmich's TurfPave® delivers a great solution," he said. "It's installed under the turf surface and stabilises the soil, allowing rainwater to permeate and drain away."
Manufactured from recycled plastics, TurfPave's® high strength modules interlock and can accommodate heavy vehicle load requirements up to the latest generation fire engines.
"It's also highly practical because it can conform to uneven areas making it simple to install and adaptable for use in many applications," said David.
TurfPave® has been installed in many public and private sector settings in recent years, including the Sydney Olympic Village, the Sydney Academy of Sports and in projects across Australia, New Zealand, South East Asia, the United Kingdom and the United States.
"TurfPave offers architects and developers a practical grassed alternative to concrete and asphalt driveways, parking lots and walkways and can avoid having to install costly storm water management systems associated with impervious surfaces such as bitumen, pavers or asphalt," said David.