Slotwall Acrylics store display system by SI Retail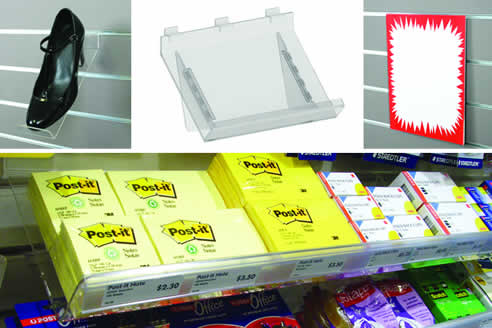 Slotwall Acrylics are ideal for improving your store displays. Not only do they have a clean and professional appearance, slatwall acrylics don't take away from the products on offer. Using slat wall in store allows you to hang, shelve and display your products as well as promote with slatwall acrylic signage.
If you are planning to revamp your shoe displays, utilising slotwall acrylic shoe shelves is ideal for highlighting your range. They effectively promote your products as the acrylic is unobtrusive. There are four main styles of slatwall acrylic shoe shelves available. They allow your shoes to be displayed from many angles on your slatwall. One particular style of acrylic shoe shelf also has a section where pricing can be inserted. Choosing a particular style of slatwall shoe shelf can save wall space while also creating a visually appealing footwear display.
Another effective slatwall fitting is the acrylic sign holders. Slotwall acrylic sign holders come in A6, A5 and A4 sizes and can be placed anywhere on your slatwall where additional product information or pricing is needed.
There is also great acrylic shelving options available for slatwall from Southern Imperial. Acrylic shelving is a modest way of promoting books, magazines, clothing and accessories on slatwall. You can choose from flat acrylic shelves or angled slotwall shelves. Using acrylic as a main part of your in store displays can effectively improve your store design and product promoting abilities. The transparency of acrylic compared with other materials can visually create more impact with the items you are selling.
To find out more about slatwall acrylics that are available for your store visit www.sishop.com.au under product shelving or slotwall accessories or call 1800 211 122 to talk to the SI Retail team.