Miller Fall Protection Stretchstop lanyards - stretch to safety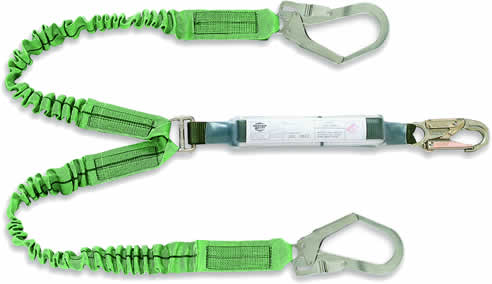 Miller® Stretchstop lanyards feature a uniquely designed elastic core which contains the unextended length of the lanyard, preventing snagging or tripping when not in use. The outer sheath is manufactured from high quality load bearing polyester tubular webbing and allows for a 1.27m lanyard to be stretched out to a total length of two metres.
The Stretchstop twin lanyard also features an energy absorber which is designed to keep the forces of a sustained fall to under 6kN. When a fall has been taken, the energy absorber deploys, providing visual indication that the lanyard should be removed from service.
The Miller® Stretchstop twin lanyard is perfect for applications in tower climbing, or access applications where maximum flexibility and connection is required at all times.
Miller® Stretchstop lanyards are certified to Australian and New Zealand Standards AS/NZS 1891.1-2007.