MultiCyclone by Waterco - NSF certification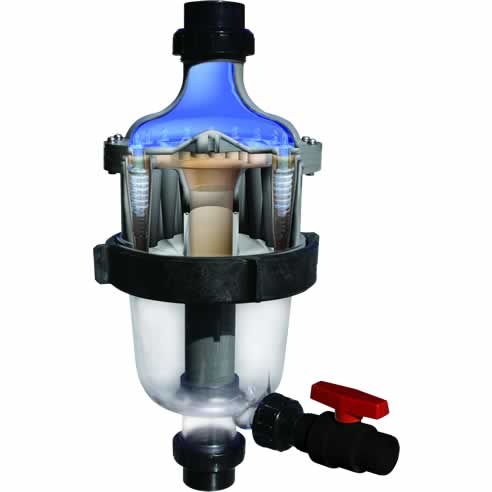 Waterco's MultiCyclone has now been certified by NSF international, which will assist the sale of MultiCyclones in North and South America via Waterco USA and Waterco Canada. American and Canadian pool builders view NSF certification in high regard and some customers will not purchase a product unless it is NSF certified.
NSF tested the MultiCylcone for its structural integrity, head loss, turbidity removal, and cleanability. Its turbidity tests proved that the MultiCyclone was capable of filtering down to 30 microns. NSF made the following comment, "the sample was extremely effective in trapping particles that are larger than 30 microns somewhat effective in the 20-30 micron range."
A copy of the full NSF report is available from your local Waterco branch.
About NSF
NSF International, The Public Health and Safety Company™, a not-for-profit, non-governmental organization, is the world leader in standards development, product certification, education, and risk-management for public health and safety. For 60 years, NSF has been committed to public health, safety, and protection of the environment. While focusing on food, water, indoor air, and the environment, NSF develops national standards, provides learning opportunities through its Center for Public Health Education, and provides third-party conformity assessment services while representing the interests of all stakeholders. The primary stakeholder groups include industry, the regulatory community, and the public at large.
NSF is widely recognized for its scientific and technical expertise in the health and environmental sciences. Its professional staff includes engineers, chemists, toxicologists, and environmental health professionals with broad experience both in public and private organizations.
NSF has earned the Collaborating Center designations by the World Health Organization (WHO) for Food and Water Safety and Indoor Environment.
Serving manufacturers operating in 80 countries, NSF was founded in 1944 and is headquartered in Ann Arbor, MI USA. The NSF Mark is recognized for its value in international trade around the world and is respected by regulatory agencies at the local, state, and federal levels.
Watch our latest MultiCyclone product video on You Tube: Click Here