Door Frames Sydney from Vincent Buda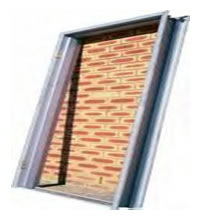 Non Rated Frames
Vincent Buda & Company stock a large range of metal door frames. Frames are available in a range of different throat and reveal heights and widths.
DOOR FRAMES
Metal door frames provide the most cost effective alternative to other materials or products. Metal frames are supplied complete with all hardware preparation and details to suit exact requirements. Metal frames will not warp or twist and are not affected by vermin or borers. Metal frames are also fire and weather resistant.
Standard frames are of 1.1 mm or 1.4 mm thick material on order. They can be supplied as a complete unit with welded corner connections (Stock Standard) or shop-primed with zinc based primer (Order) or in a kit form for site assembly (Order).
Stock Frames
These frames are supplied with:
One pair of 100 x 75 mm 1.6mm zinc plated loose pin butt hinges projection welded into position
A universal stainless steel striker plate positioned at standard location
One pair of rubber buffers fitted to the lock stile
Removable spreader bars
Ramset plates to each stile
Ten galvanised wire ties
Projection welded corners when supplied as factory assembled frames Available Extras on order
Additional hinges
Priming, & Weld, Dress Prime
Preparation for special lock strikers
Preparation for non-standard lock height
Reinforced for surface mounted closers or preparation for concealed closers
Preparation for screw fixed hinges
Tube fixing for bolting of frames to existing walls
Special Sizes (Width, Height, Throat).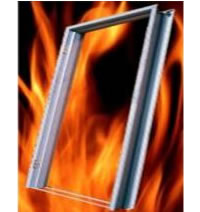 Fire Rated Frames
Vincent Buda & Company stock a large range fire rated metal door frames which are primarily designed to suit mini fire doors. Frames to suit Commercial Maxi fire doors are available on order. Frames are available in a range of different throat and reveal heights and widths.
Features
Mini fire doors have 1.1 mm thick zincanneal mild steel door frames
Maxi fire doors have 1.4 mm thick zincanneal mild steel door frames
Fast Fix Bracket (in Masonry Frame) allows for installation in plasterboard partition walls using stud fixing straps.
Frames are to be backfilled with mortar, grout, plaster, plasterboard or concrete unless otherwise specified.
All door frames to have 25 mm wide door stop but there are restricted approvals for 15 mm wide door frame stops
Currently fire rated door frames are available for the following wall types:
- Brick, block or concrete masonry walls (Stock)
- Steel or timber stud plasterboard partition walls (Order)
- Rapidwall wall systems (Order)
- CSR Hebel wall systems (Order)
The Trafalgar Tru Seal metal door frames are also approved on Maxi fire doors for fire ratings up to 4 hours.
Capabilities
Mini fire door frames fire rated up to 2 hours (NA/120/30).
Maxi fire door frames (including the Tru Seal metal door frames fire rated up to 4 hours (NA/240/30).
New Generations door frames fire rated up to 3 hours (NA/180/30).
Acoustic STC ratings up to 47
Applicable Standards
All fire rated door frames meet the following standards:
+ Australian Standard AS 1530 Part 4-Fire-resistance tests of elements of building construction
+ Australian & New Zealand Standard AS/NZS 1905 Part 1- Components for the protection of openings in fire-resistant walls
+ Building Code of Australia